We are always looking at ways that we can develop our players both on and off the court and through my UEFA B course I recognised that we do not provide enough information or content for players to develop physically both at our sessions and from home. This includes speed, strength, agility, nutrition and sleep.
As a result, in cooperation with Matchfit Conditioning, we have created a testing and training programme focused on players aged 12 and above but we also want to start a process with the younger players.
As part of our testing programme we will take all our players height and weight and continue to do so throughout the year. I understand that some parents may be concerned by this, however, the data will help us consider how to manage the players through stages of growth and how to tier them in our sessions and teams. Through basic testing we have already noticed a massive difference in terms of biological development of players and there is up to 5 or 6 years of a difference between players born in the same year!! I believe it is our job to provide every player with the best possible environment to develop as players and people and we will be in constant dialogue with the players to offer advice and support.
Our younger players will be provided with body weight exercises that they can do to work on their agility, speed and strength but the focus at sessions will always be on their ability with the ball and developing their motor skills.
When testing your fitness levels, it's important to remember a few key rules:
Never do any fitness testing if you're carrying an injury or you haven't been cleared to do so by a medical professional
When testing alone, ensure someone is nearby in case of an emergency
Make sure you do a full and thorough warm up prior to starting all fitness tests
SAFETY FIRST!!
Our older players will be tested on the following throughout the year:
TESTING AND MONITORING RESULTS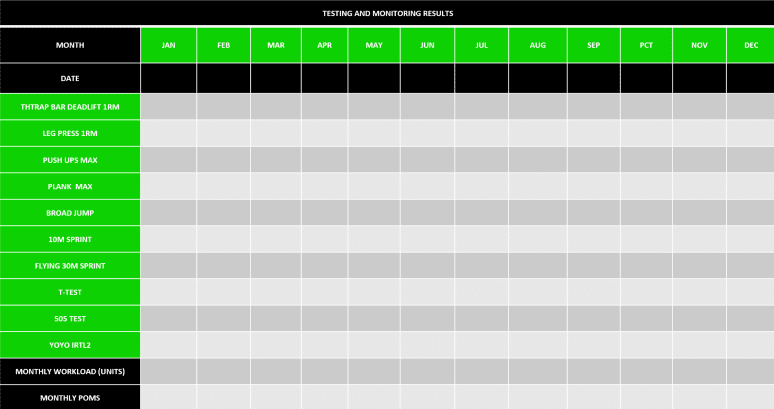 GYM BASED TESTS
HOW TO FIND YOUR 1RM
MAX TRAP BAR DEADLIFT
ASSESSES: MAXIMUM LOWER BODY STRENGTH
Lower body strength is vital in areas such as speed, agility and change of direction. Having a stronger lower body also means a lower risk of injury. The aim of the test is the same as the 1RM leg press test (below). although the hip hinge is a little more dominant, there is less emphasis on the knee bend (flexion), and there's a greater activation of the stabilising muscles than in the leg press.
It's testing your body strength from a slightly different angle. The trap bar deadlift is seen as a safer option than the traditional barbell deadlift for less experienced lifters. It's also more comfortable and far more natural, functional position for footballers/futsal players to use.

To maximize results, try hit your maximum weight in 3-5 attempts. Further attempts may result in muscle fatigue and therefore not achieving your true maximum for this test.
Hint: if you're able to complete more than one repetition on a given weight, it's too light and you should increase the weight safely.
1 REP MAX LEG PRESS
With the same aim in mind, this test involves assessing maximum lower body strength by trying to push the maximum amount of weight possible on a leg press machine.
To maximize results, try to hit your maximum weight in 3-5 attempts. Further attempts may result in muscle fatigue and
therefore not achieving your true maximum for this test.
Hint: if you're able to complete more than one repetition on a given weight, it's too light and you should increase the weight safely as outlined in the video at the start of this section.
PUSH UPS TO FAILURE
ASSESSES: UPPER BODY MUSCULAR ENDURANCE
Upper body strength is key in fending off opposition players in a match. Assume the push up position (hands below shoulders, elbows aimed at 45 degrees), and place a small, soft object the size of your fist beneath your breast bone/sternum.
The aim is to perform as many push ups as you can until you cannot perform a complete repetition.
Hint: a complete repetition is only counted if your chest touches the object beneath your breast bone/sternum, and you push yourself up until your arms are in full extension. Non-touch/non-extension reps should not be counted.
MAX PLANK HOLD
ASSESSES: CORE STABILITY AND MUSCULAR ENDURANCE
A strong core is vital in injury prevention and force development. Assume the plank position (forearm at 90 degrees to shoulders, elbows below shoulders, palms flat on the ground, back flat) with a clock/stop watch laid out in front of you.
Attempt to maintain the plank position for as long as possible. Once you reach failure point (i.e. cannot maintain the plank any longer) record the number of seconds/minutes you were able to maintain the plank for.
Hint: Keep your feet shoulder width apart to ensure you're not making the test harder/easier.
PITCH BASED TESTS
BROAD JUMP
ASSESSES: HORIZONTAL LOWER BODY EXPLOSIVE POWER
Place a measuring tape along the ground, position both feet shoulder width apart and line your toes up with the 0-meter mark on the tape measure. In a fast, controlled movement, dip your hips down while swinging your arms backwards – then swing your arms forward while jumping as far forward (horizontally) as you can.
Focus on extending your body as much as possible in the jump. Land with both feet in line and record the distance on the tape measure that corresponds with the line of your heels/back of your footwear.
Hint: If you stumble on landing and are forced to take an extra step to regain balance, perform the test again to ensure your landing "sticks". You can also perform this test with a one-legged jump (left leg jump, left leg landing) to compare explosive power of both legs.
10M SPRINT
ASSESSES: ACCELERATION AND SPEED
Much like explosive power, acceleration is key to moving into an advantageous position and outmanoeuvring opposition players.
With the same measuring tape, mark off a 10-meter distance. With a stop watch in your hand, assume a "staggered start" position at the 0-meter mark and when you're ready sprint as hard as possible until you reach the 10-meter mark.
Stop the timer once you pass this marker and slowly decelerate (don't stop on the mark). This will assess your acceleration from a standing start.
Hint: Sprinting mechanics are vital in ensuring an "explosive" start and good acceleration. Aim to drive your arms and legs as hard and fast as possible to generate good power.
FLYING 30M SPRINT
ASSESSES: MAXIMUM/TOP END SPEED
Top speed can be the difference between making a goal line clearance and saving your team or losing a game in the dying seconds. Mark off the 10 meter and 40-meter mark on the measuring tape. From the 0-meter mark, sprint towards the 10-meter cone and start your timer only when you pass this marker.
Continue your sprint until you pass the 40-meter marker, and then stop the timer. This will assess your maximum/top end speed over a 30-meter zone.
Hint: ensure you're travelling at a full sprint at the 10-meter marker as this will ensure the best possible test result.
T TEST
ASSESSES: AGILITY
Agility in football means being able to move in multiple directions at speed (such as pressing the opposition in a congested area). Set up four markers in the shape of a "T" (shown below). At the start marker ("D"), sprint 10 meters to the "B" marker, then side shuffle 5 meters to "A", and side shuffle again, all the way across to "C". Back to "D" then drive backwards back to the starting position at "D".
5-0-5 AGILITY TEST
ASSESSES: AGILITY AND SPEED OF TURNING
The ability to turn quickly enables you to lose a tight marker, move into free space quickly and become more mobile on the pitch. Starting From "A", sprint the 10 meters to the "B" line. Once here, start your timer and continue your sprint to "C" (turn line).
Turn sideways and push off this line and sprint back to "B". Once
across the "B" line, stop your timer and record.
Repeat this test after 2-3 minutes and be sure to also push off
the opposite leg.
Hint: Compare the time for the Left and Right turn to determine
which side your turn is stronger on. Address your weaker side by
performing single-leg strength training.
YO-YO TEST
ASSESSES: AEROBIC FITNESS/ MAXIMAL AEROBIC SPEED
Stamina is the cornerstone of football fitness. It allows you to cover more ground without feeling fatigued, as well as improving your recovery time between sprints and matches. Using the Yo-Yo IR Level 2 Test audio track, on the 1st audio trigger begin running from the start line to the turnaround line.
Control your running speed to ensure you turn precisely on the 2nd audio trigger, and ensure you cross the finish line by the 3rd trigger. Take 10 seconds to slowly walk the 5-meter recovery distance and back (10 meters total) and return to the start line for the next trigger (start from a static position).
Keep running until you cannot make the required line in time and miss an audio trigger, then record which level you successfully reached.
Hint: Remember to interchange the legs you turn on to prevent fatigue.